Ahilya Bai Holkar-Early Life 1725 A.D
Ahilya Bai Holkar was the queen of the Holkar Dynasty. She was born in Chondigram village,Jamkhed,Ahmednagar, Maharashtra,India. She ruled for 28 years from 1768-1795 AD. Rani Ahilya Bai Holkar had immense faith in Lord Shiva. As a devotee of Lord Shiva, she constructed many temples all across India.
Ahilya Bai Holkar was the queen of the Holkar Dynasty. She was born in Chondigram village,Jamkhed,Ahmednagar, Maharashtra,India. She ruled for 28 years from 1768-1795 AD. Rani Ahilya Bai Holkar had immense faith in Lord Shiva. As a devotee of Lord Shiva, she constructed many temples all across India.
The Ahiliya Bai Fort,1725 AD, Maheshwar, Madhya Pradesh, INDIA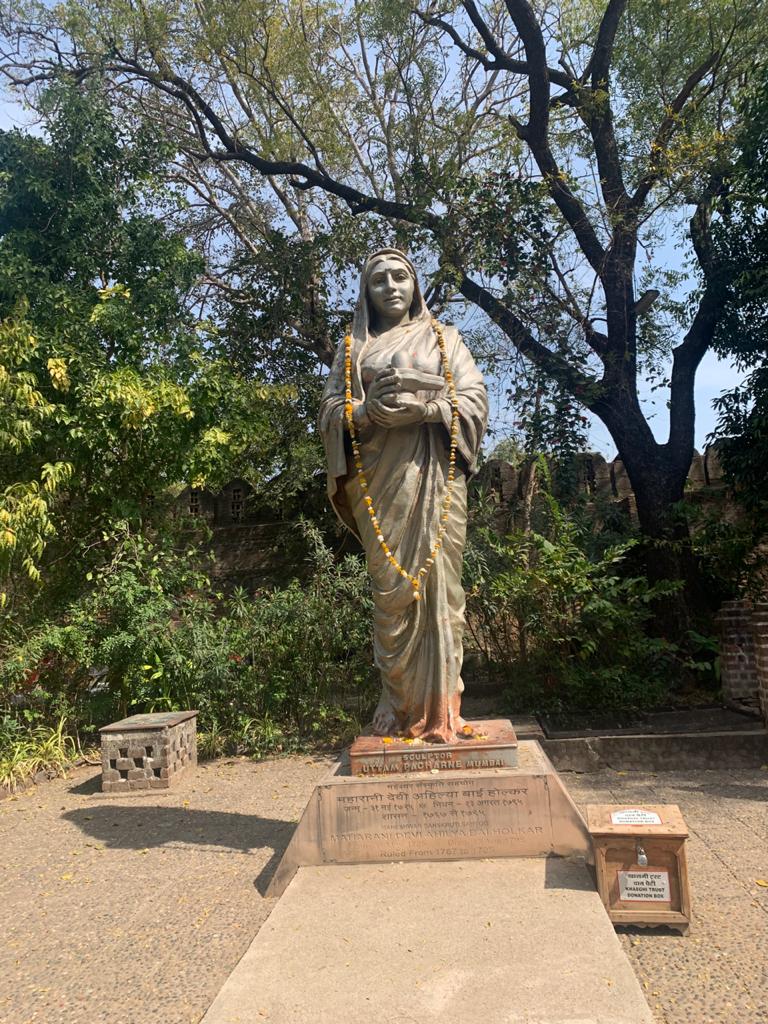 During those days, women were not allowed to go to school, as thought prevailed that women were meant to take care of household responsibilities only. But her father broke the custom of that time and taught her to read and write.
So how did she became part of the Holkar Dynasty?
Malhar Rao Holkar, the commander serving Peshwa Bajirao and Lord of the Malwa territory- was on his way to Chondi Village,Madhya Pradesh and found an eight year old girl in a temple ; seeing her devotion,innocence and strength of her character for temple services; brought her in Holkar territory and married her to his son Khande Rao Holkar at the age of 13 in 1738 A.D and thus she became a part of the royal family.
Ahilya Bai Holkar's husband(Khande Rao Holkar) during one of the war was killed in 1754 A.D in Rajasthan. Although he won the war, but at the very last moment, someone shot him from the back and he died at the spot.
In the earlier times, there was a system /ritual of "SATI", wherein wife had to sacrifice herself by sitting atop her deceased husband's funeral pyre.
After the loss of her husband during the war, she had to follow the "SATI" ritual but, her father in Law (Subedar Malhar Rao Holkar) made her understand that that she should not perform the ritual,as there would be no one to take care of the empire under the Holkar dynasty, after her husband's death.
Ahilya Bai Holkar abided by her Father-in Law's words and dropped the ritual and made her son(Mane Rao Holkar) succeed the throne.
Mane Rao Holkar sat on the throne in 1766 AD. However, he could not continue to hold the throne, since he contracted a dreadful disease of that time- Plague. He ruled for 8 months and died at the age of 22.
Since there was no one to succeed the throne, Ahilya Bai Holkar had to take control of the empire.Ahilya Bai Holkar left Indore and decided to move her seat and made Maheshwar, as the capital of Madhya Pradesh, India in 1766 AD.
Earlier, the name of this city was Mahesmati but she changed the name to Maheshwar, which means the abode of Lord Shiva and thus we can find many Shiv temples constructed under her reign.
In her pictures and idols, we can see the picture of Lord Shiva in her hand.
DEEDS OF AHILYA BAI HOLKAR IN INDIA
Rani Ahilya Bai Holkar was a Shiv Devotee. She had immense faith in Lord Shiva.As her devotion she constructed many temples, charitable houses for travelers(Dharamshala), and a broad flight of steps leading down to a river(Ghats) under her supervision.
Places where temples were constructed, all across India.
VISHNUPRAYAG,KEDARNATH,HARIDWAR,
BADRINATH,VRINDAWAN,AYODHAY,
ALLAHABAD,VARANASI,GAYA,
PUSHKAR,NATHDWARA,UJJAIN,
INDORE,RISHIKESH,GANGORTI,
OMKARESHWAR,MAHESHWAR,
AMARKANTAK,DWARKA,SOMNATH,
NASIK,ELLORA,PUNE,JEJURI,
CHONDI,PANDHARPUR,RAJAPUR,
GOURKARNA, RAMESHWARAM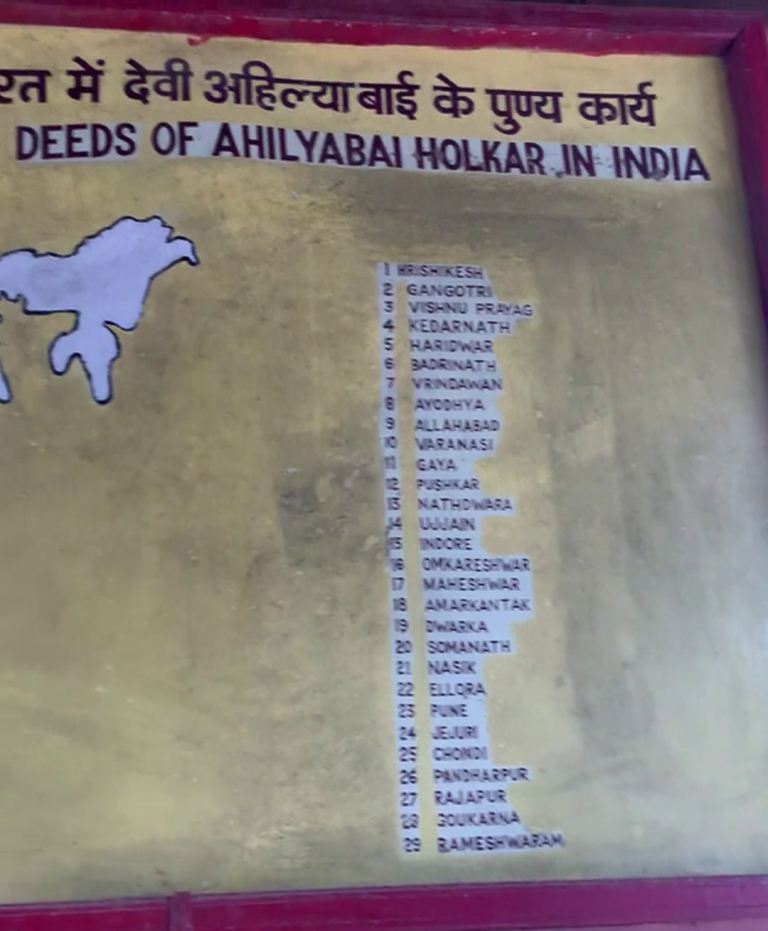 When Ahilya Bai Holkar took oath and sat on the throne ,she lead the soldiers in the battle field and handled the treasury department.
Although Ahilya Bai Holkar was questioned for her capabilities to handle Malwa Empire, but the army was very enthusiastic about her leadership qualities. To gain confidence of the army was one of her significant achievements under the Holkar dynasty.
She gained insight into every complaint raised by the citizens; and referred the cases to her minster to look in the matter and settle it in an equitable manner.She remained patient and investigated insignificant cases also.
Taxes collected were used for happiness, welfare, and development of her people during her reign.With her excellent administrative and military skills, she ensured that Malwa was never attacked in locals battles and wars.
Another remarkable achievement of those times was her strategical mind and command over verbal communication which lead to winning over the Peshwa dynasty without entering into a war like situation which demonstrated her capabilities.
After the death of her husband and son, a few of the decedents from the Peshwa Dynasty wanted to conquer the Holkar dynasty. On that she said " If you get defeated by a widow in the war, it will be a big dent on your valor and reputation." hearing this they changed their mind,and dropped their strategy to attack the Maheshwar(Ahilya) Fort.
Another set of deeds and achievement was the development of Indore from a village to a prosperous city with well planned infrastructure . Inside Malwa, she built many roads and forts , leading to many entry points from where they can take control of the city in the event of an attack.
She was a visonary ,who planned in advance, the future of Malwa. She ensured that widows were allowed to retain the wealth of the husband after their death.
One of her strong principle of governance was moderate assessment,and workings for the right of the villagers and owner of the land.
She was a very down to earth lady.Just an hour before the daybreak,she offered prayers to Lord Shiva,read scriptures, distributed pure food to Bhramins. Her lifestyle habits included pure vegetarian food, meditation and taking interest in the day to day affairs and development of the city for her people.
She attended the courtroom meetings, during the afternoon and evening hours to discuss on the strategic matters. Her life was dedicated to prayers, religious meetings, helping the poor and needy , attending the festivals, taking care of any public emergencies .
Even today she is worshipped like a goddess, in Maheshwar and thus she is honored with the title of a "DEVI".
Ahilya Bai Holkar's words :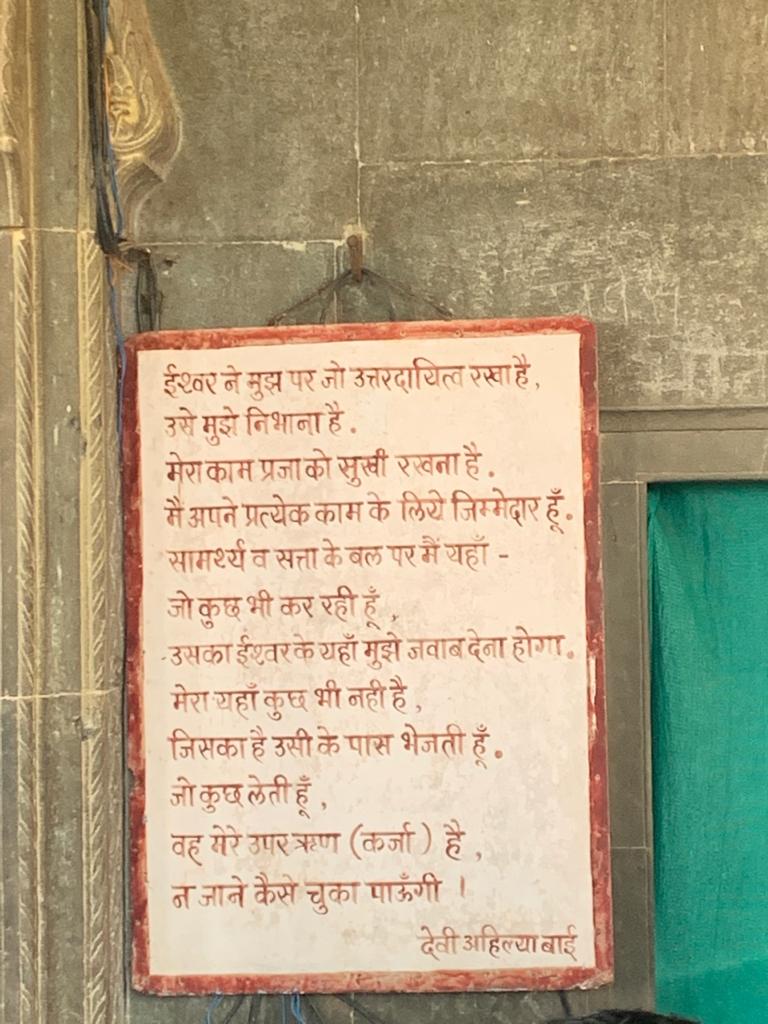 During those time, she travelled in Palkies(a type of human powered transport, a palanquin or sedan chair or bed ,to transport the person from one place to another) to visit the temples.
Palkies in Ahilya Bai Holkar Fort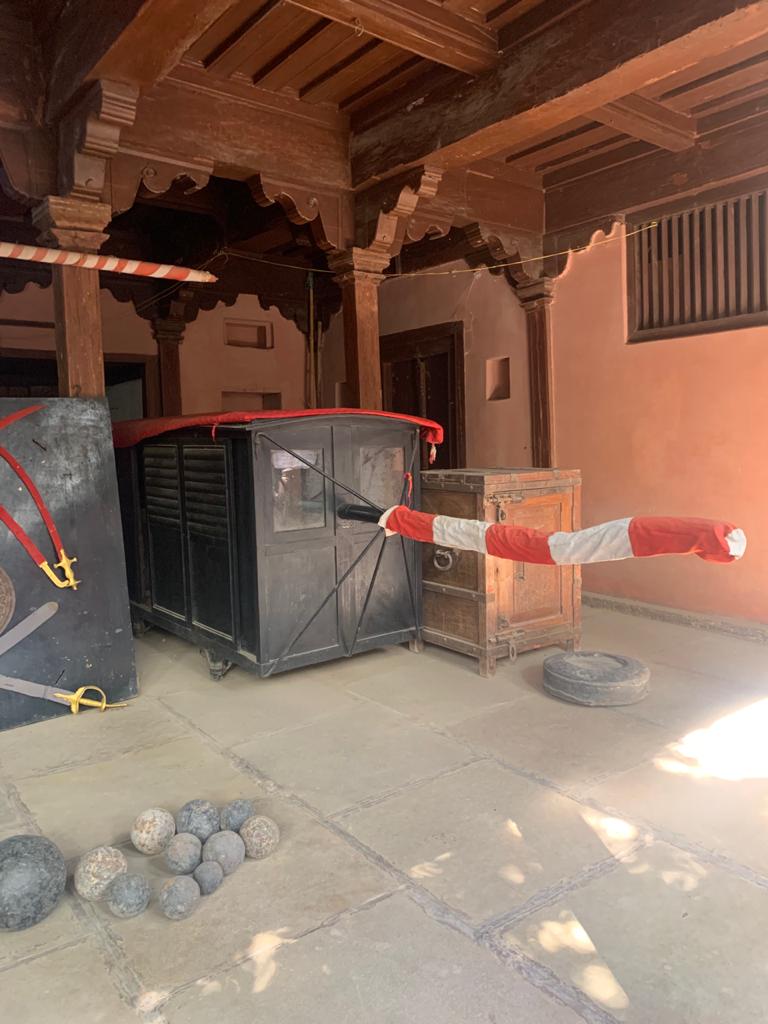 Swords used in the Battles and Wars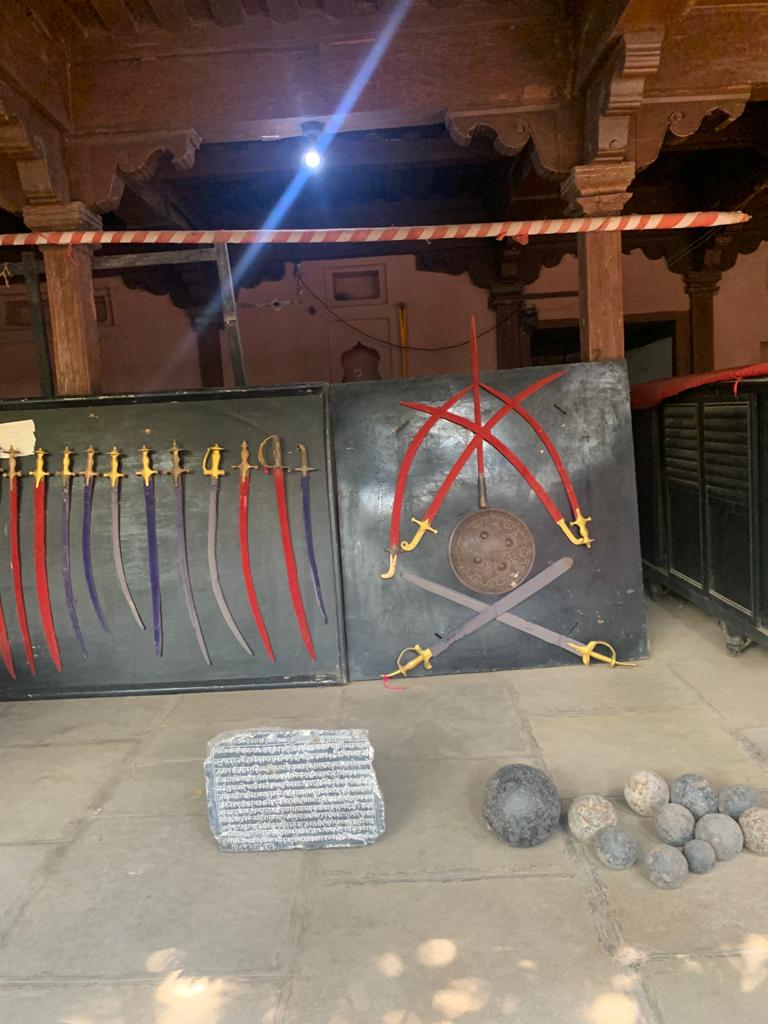 There are two boundaries to protect the fort.
The inner boundary located inside the main fort area and the outer main boundary constructed close to the banks of river Narmada.
Inner Fort Boundary- Ahilya Bai Holkar Fort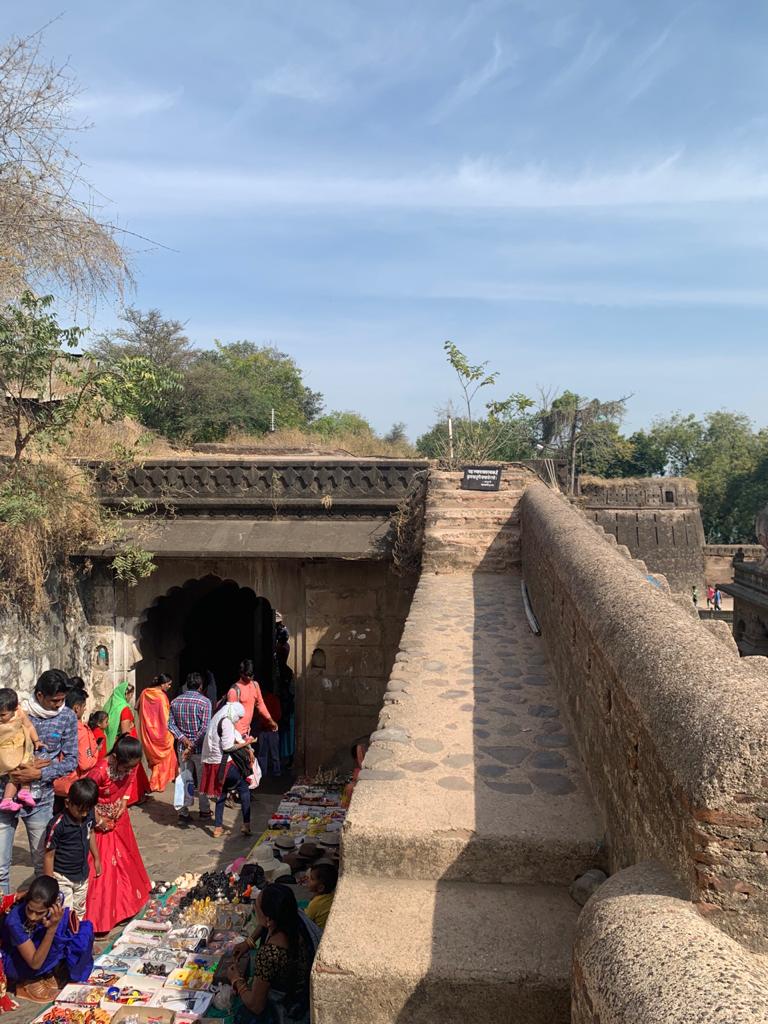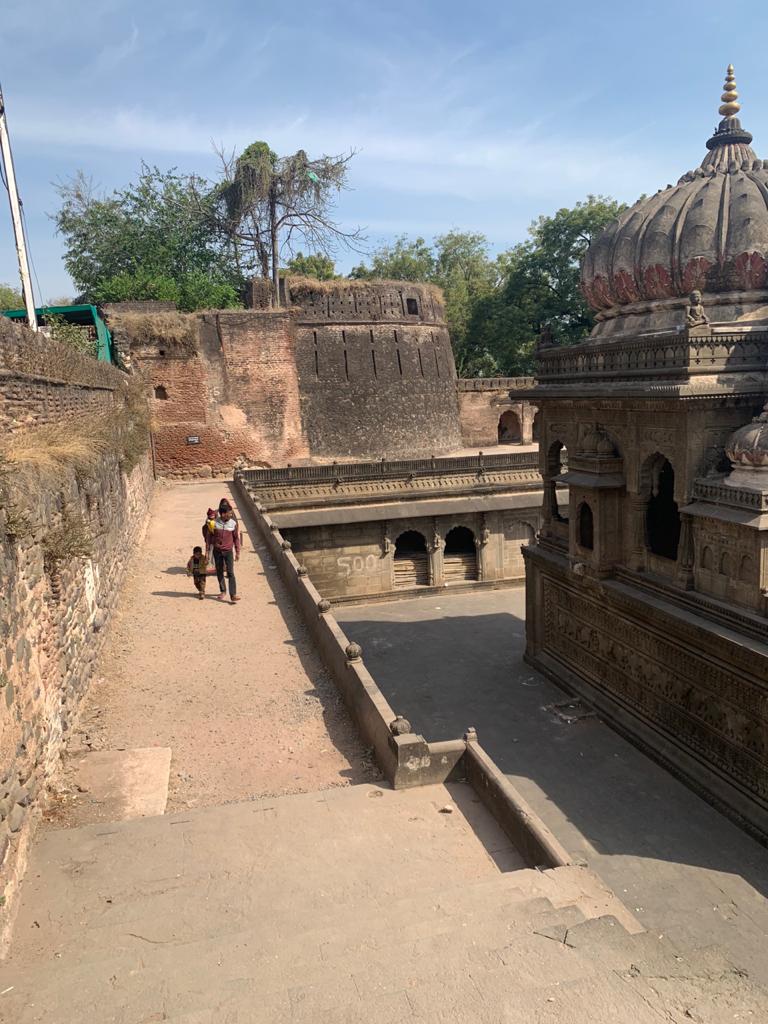 The fort was strategically constructed near the banks of the river, so that it becomes difficult for the enemy to attack directly as they have to cross the river .This also became a protective shield for the army to deploy their arms and ammunition and keep a check on their movement the enemy.
The soldiers lived inside the domes close to the inner boundary of the fort, in the event of an attack the soldiers can immediately come out the domes take their position.
Outer Fort Boundary Next to River Narmada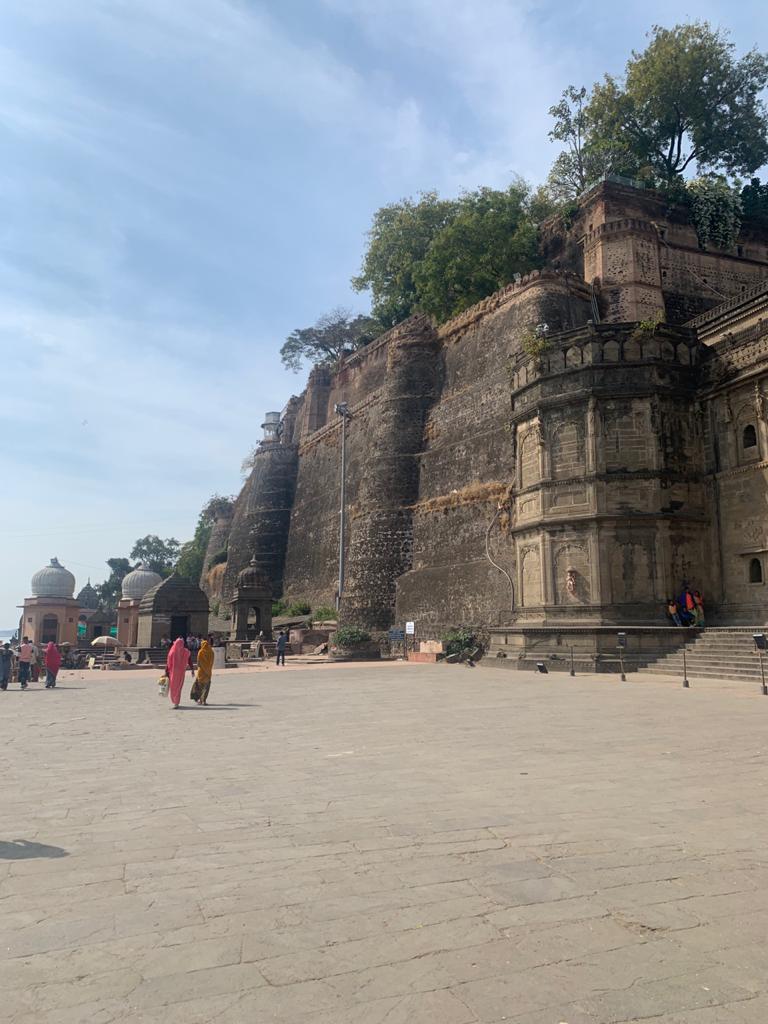 Prominent Temples Inside The Ahilya Bai Holkar Fort
Ahilyeshwar Temple(Chattri) Ahilya Bai Holkar Fort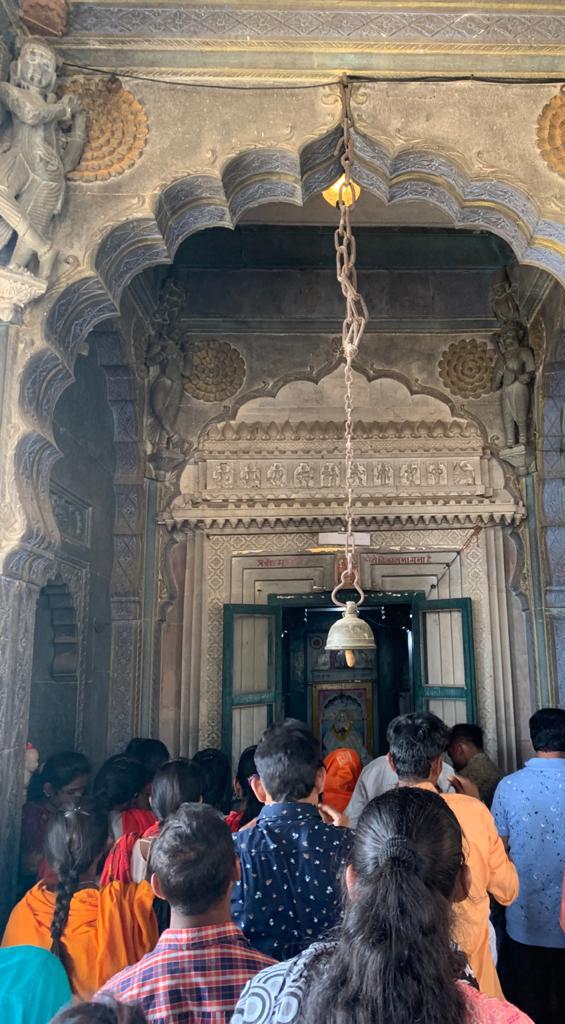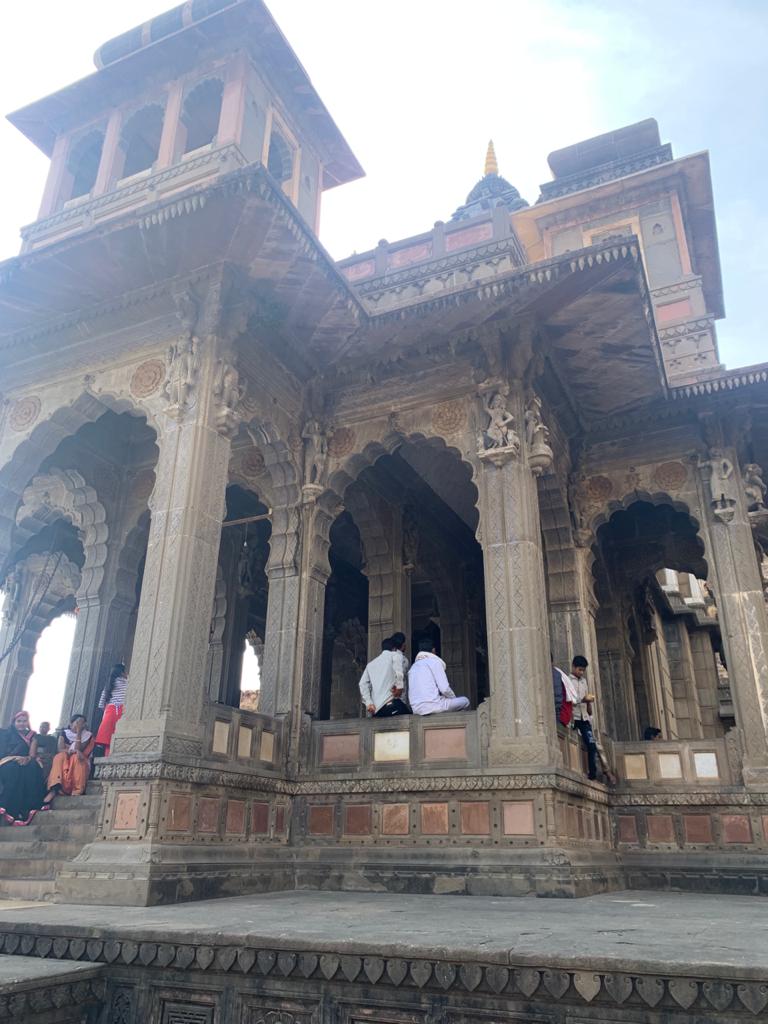 The main Mandir (Temple-Ahilyeshwar) was constructed after the death of Ahilya Bai Holkar named "Ahilya Chattri".
This temple was constructed by wife of Ahilya Bai's Adopted Son Tokuji Rao Holker which took 36 years. Inside the temple, behind the shivling is the statue of Ahilya Bai which was constructed as a tribute to her and named Ahilyeshwar.
Ahiliyabai's Kuldevta (ancestral protector deity as an object of devotion)- was Khandoba Ji's.
This idol is also placed inside the temple.
Every day in the morning at 8 am, 9 brahmins come and make 11000 tiny shivlings in the temple where she worshiped and immerse them in river Narmada. This tradition was started by Rani Ahilya Bai to maintain peace and harmony in the kingdom and this tradition is continuing today also.
There are factory made Sarees in Maheshwar( a long piece of cloth that women in the Indian subcontinent drape around their bodies) .These are displayed in the exhibition from time to time in Delhi, Mumbai, and overseas.
The minimum sale value of these Sarees starts at 100$.
Vitthal Chattri(Temple) at Ahilya Bai Holkar Fort
The temple directly opposite the Ahilya Chattri is Vitthal Chattri.
After she died in 1795 AD, her adopted son (Tukoji Rao Holkar) succeded the throne.
Devi Ahilya Bai Holkar's Adopted Son -Tokuji Rao Holkar had four children. One of them was Vitthal Rao Holkar. After his death, he was burned at this place.The place was cleaned,a sculpture was erected, and a Shivling was also established at this place named Vitthal Chattri.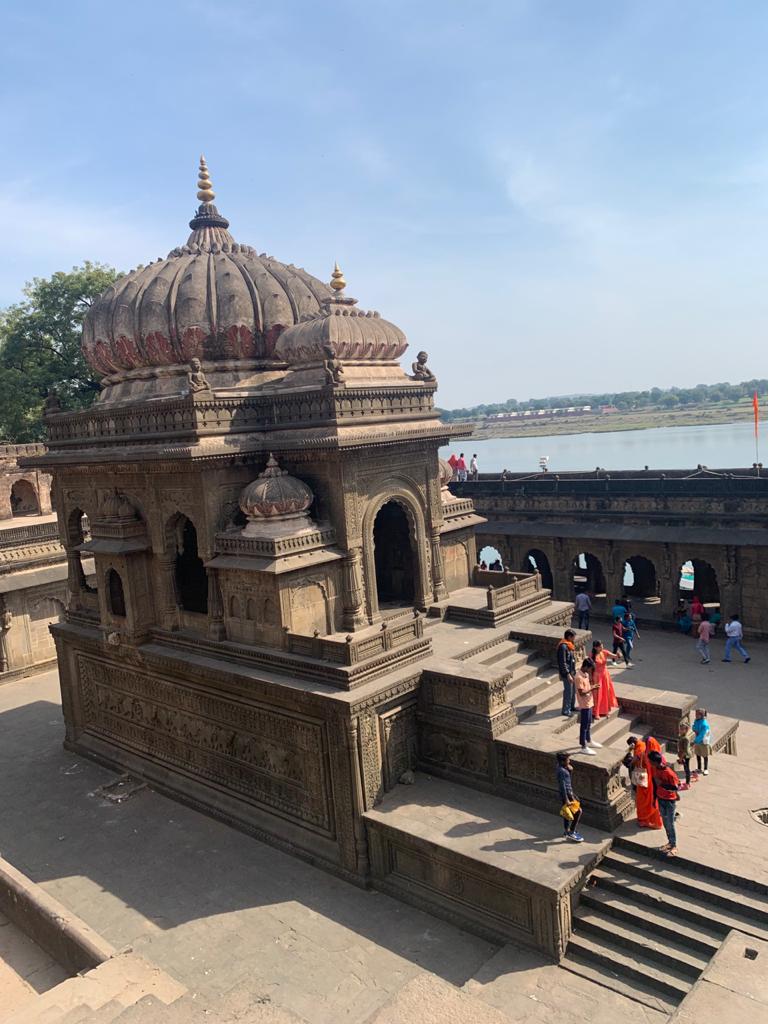 Shri Raj Rajeshwar Temple (Shiva Temple)
A special temple was constructed dedicated to Lord Shiva with eleven lamps burning endlessly since many centuries.Even today, we can see the lamps burning continuously within the temple. This temple revered for granting wishes and if the wish comes true, people offer ghee(clarified butter). There is a Shivling inside the temple which was created by Lord Parshuram who is the avtaar(manifestation of a deity) of Lord Vishnu. This is one of the main and ancient temple of Devi Ahilya Bai Holkar Fort.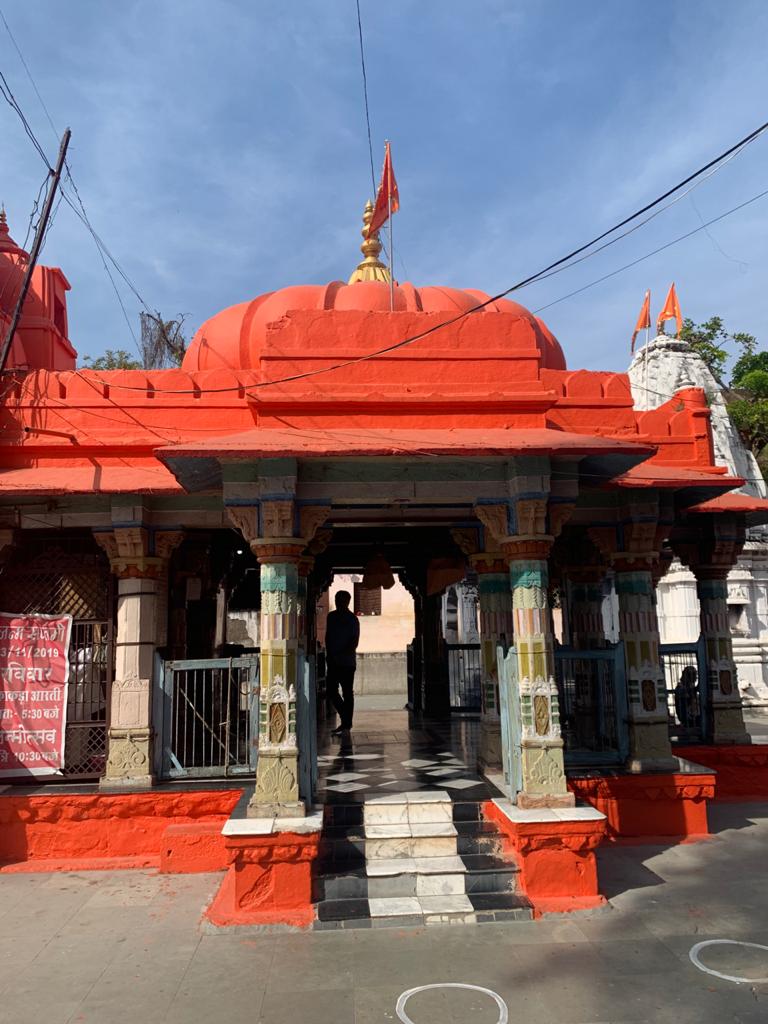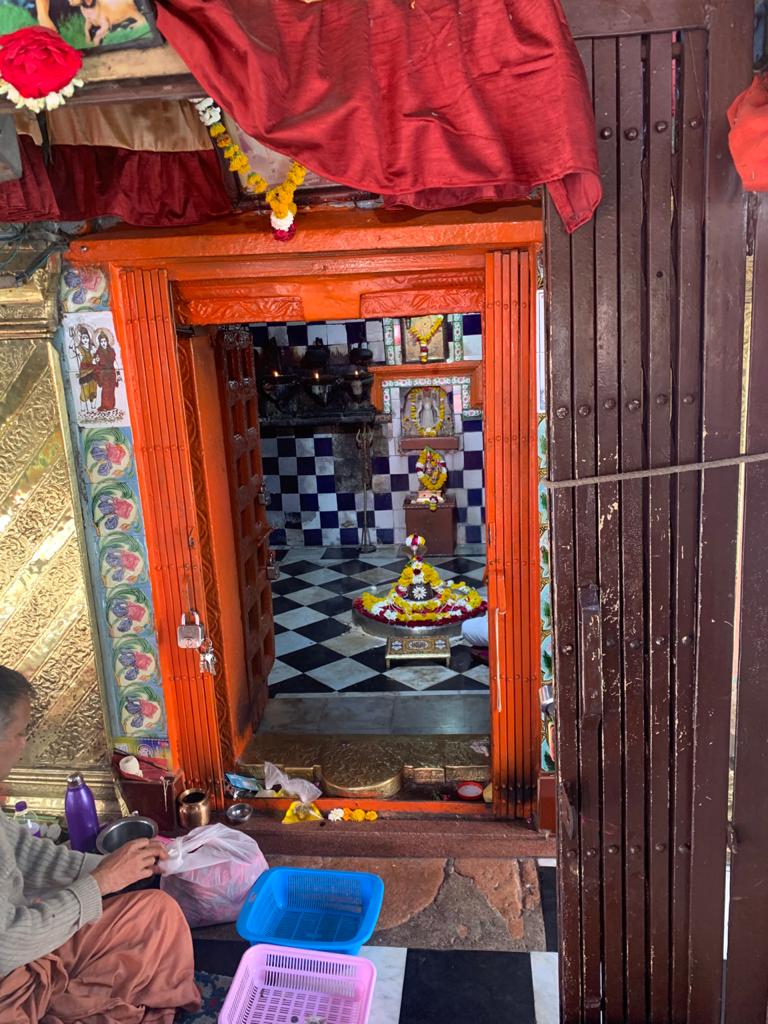 Since the fort is very close to the Narmada river, the water level rises from time to time and enters the main fort premises. A danger mark for the water level is engraved on one of the steps leading to the main entrance of the fort
Danger Mark Level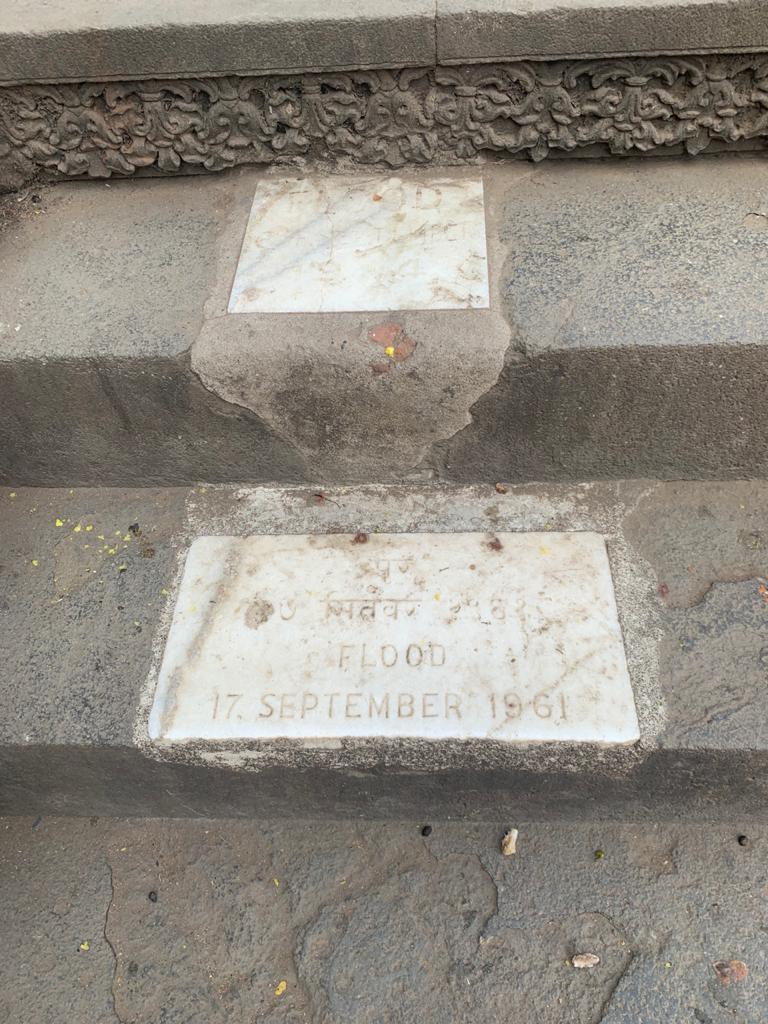 Ten Incarnations of Vishnu
Outside the temple premises, on the pillar, we can see ten incarnations of Lord Vishnu.
Incarnations
Matsaya, Kurma,Varaha,Narasimha,Vamana,Parshurama,Rama,Krishna,Buddha and Kalki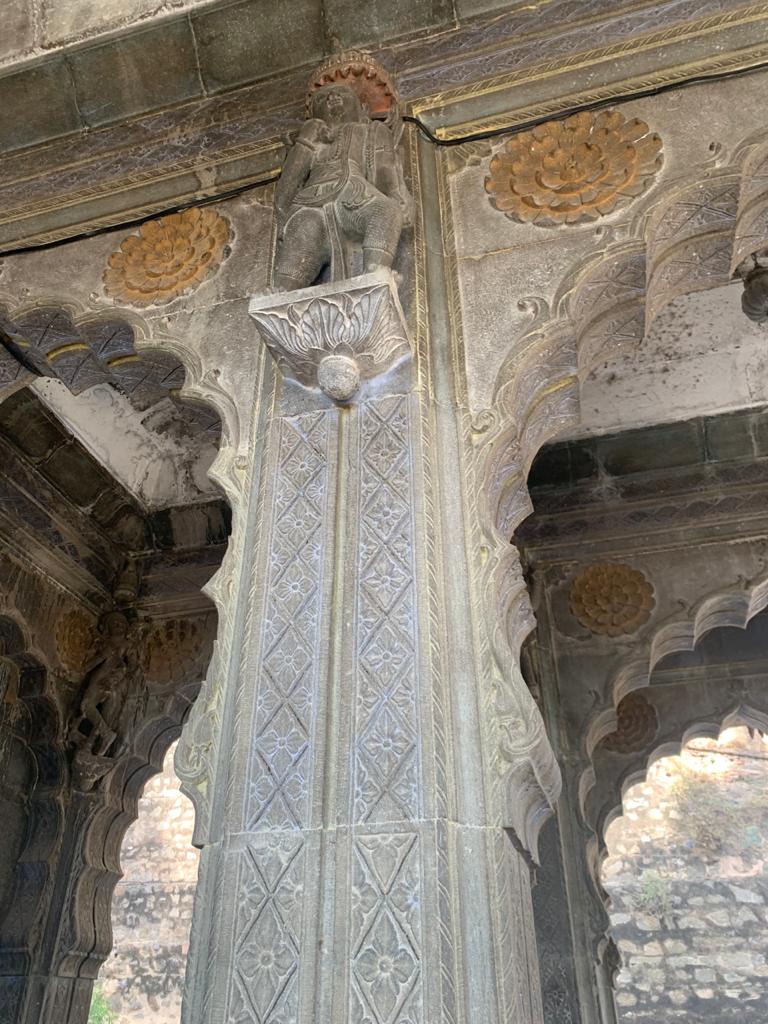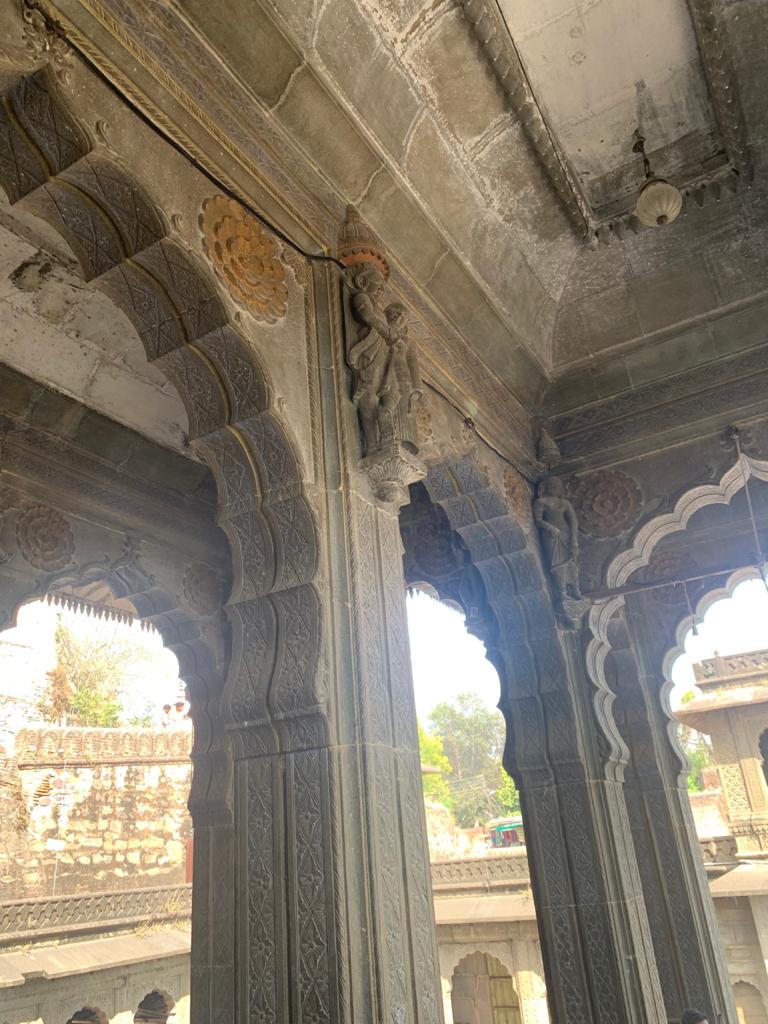 Architecture (Ahilya Bai Holkar Fort)
The palace constructed inside the Devi Ahilya Bai Holkar fort was in Maratha Architecture style, where all the important royal courts, meetings, assemblies were conducted.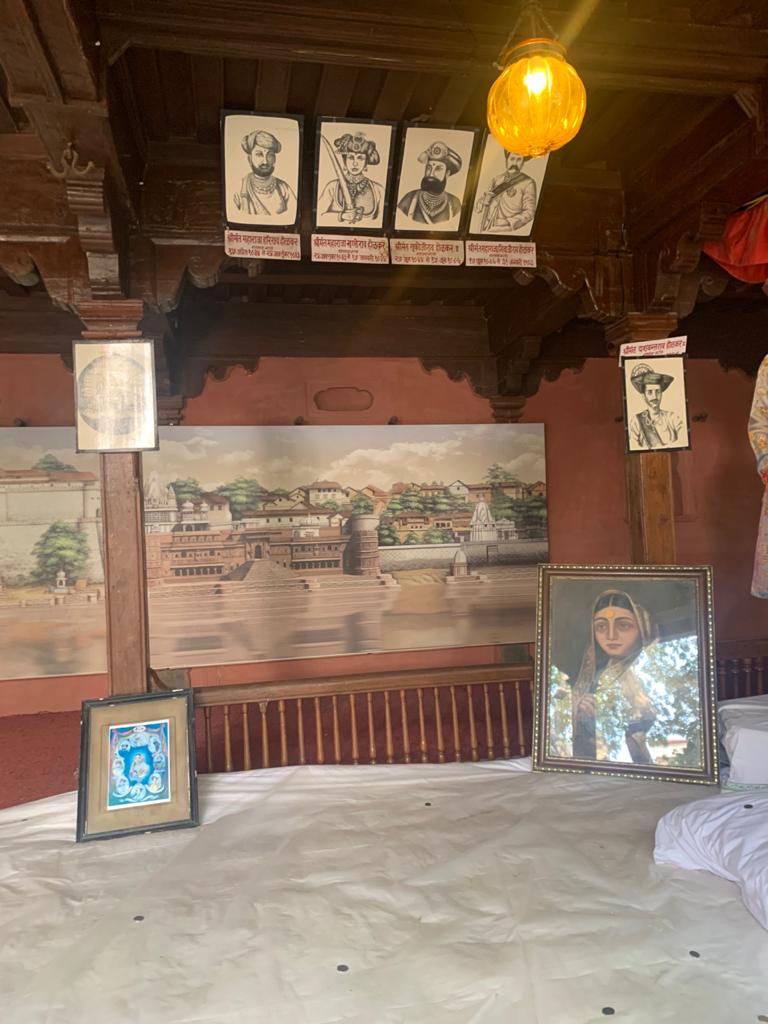 There is a unique design engraved on the Fort.The fort was built by the First King Malha Rao Holkar. It took around 40 years to build the fort. Special craftsmen from Jaipur were called to build it.
The fort Is influenced by Maratha, Rajputana, and Mughul architecture. We can see Jharoke(the Vents) were constructed in Rajputana style architecture. The flower craft was influenced by Maratha Architecture.
The pillars were crafted in Mughal architecture style.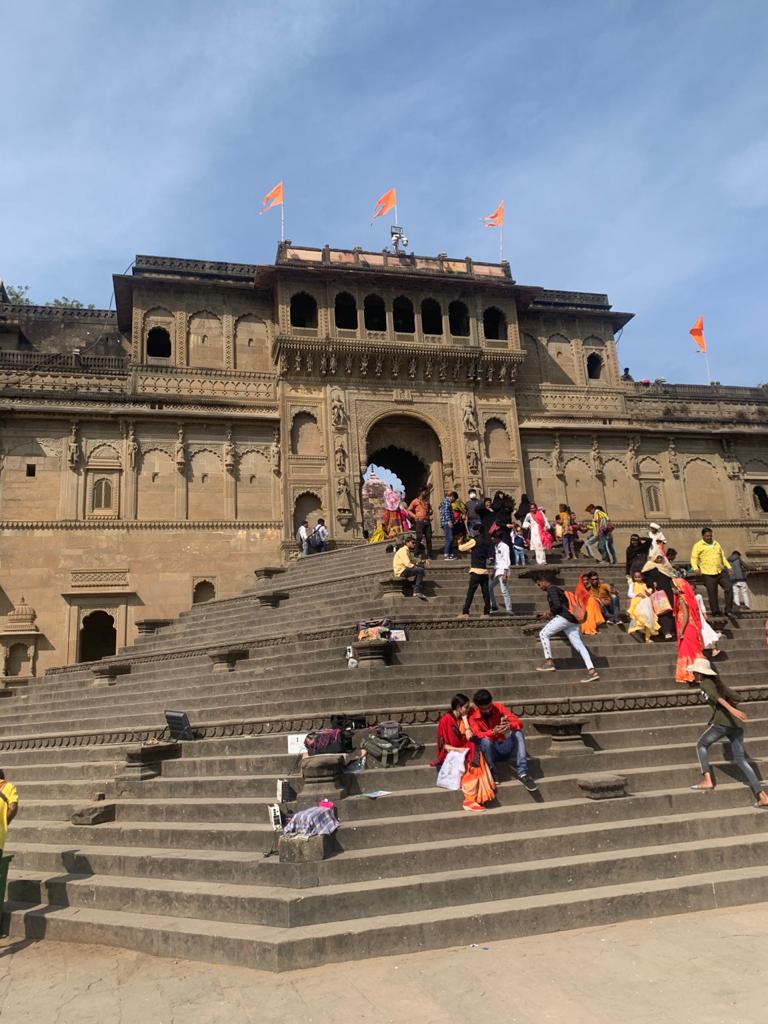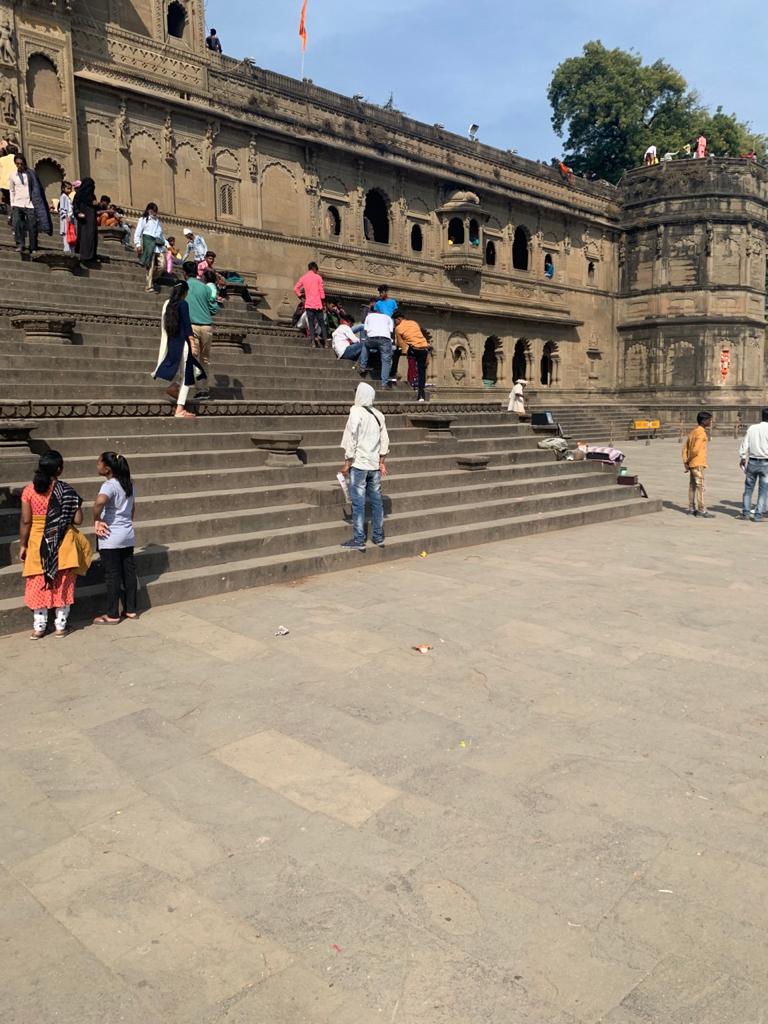 Narmada River View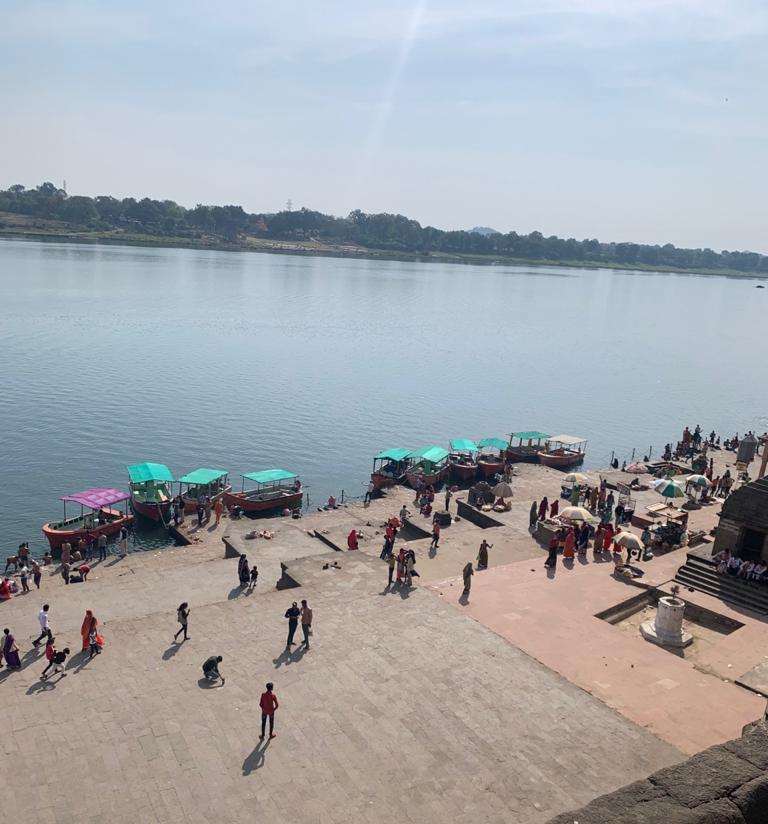 Entry from the other side-Ahilya Bai Holkar fort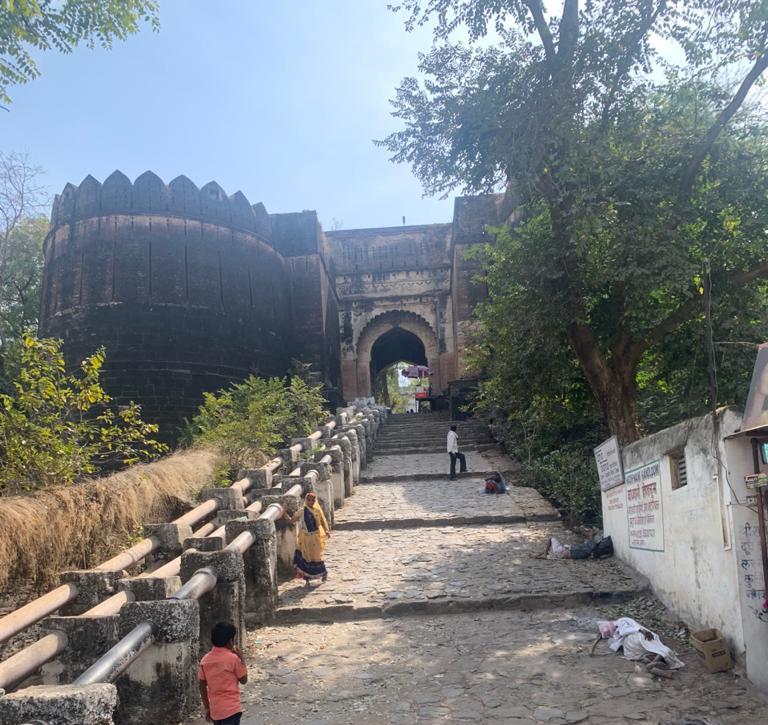 Deep Stambh(Oil Lamp Pillar)
Deep Stambh –a special pillar for lighting the Diyas(a small cup-shaped oil lamp made out of baked clay) on special occasions like Deepavali.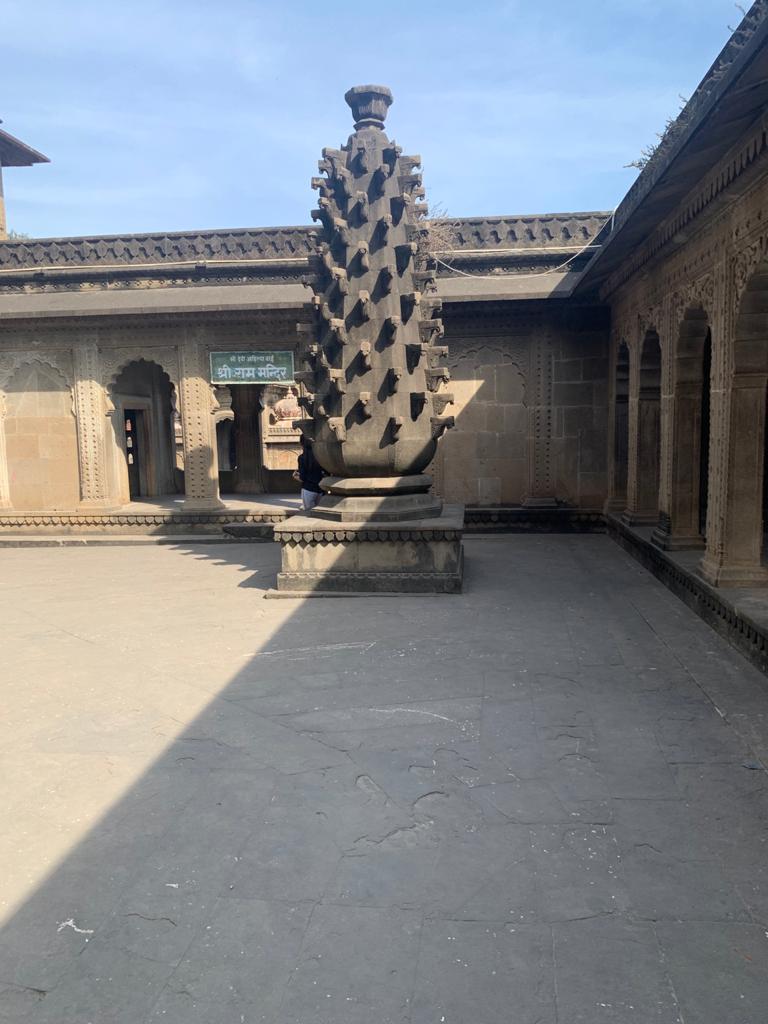 Close View Oil Lamp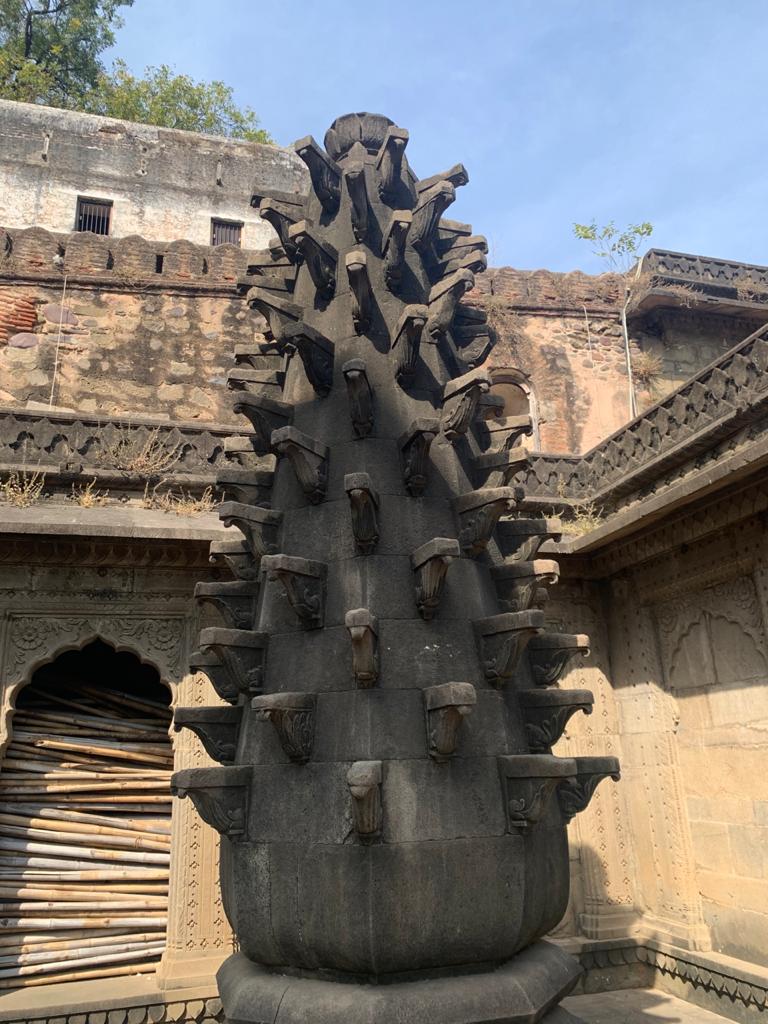 Present Day
Shivaji Rao is the Present King of Maheshwar. His Son Yashwant Rao married Niharika Godrej, Father Entrepnuer Adi Godrej.
The Mandap (Pavilion) was decorated in this temple (Ahilyeshwar) in 2015. It was a royal wedding.
Royal tents were arranged from Rajasthan and all the guest arrangements were made on the other side of the Narmada river.
Narmada river flows from east to west from Omkareshwar(one of the Jyotirlingas) to Maheswar and then from Maheshwar to Gujrat and merges into the Arabian Sea.
Many idols were influenced by Hindu Gods like Lord Ganesha, Lord Hanumanji, Garuda(A mighty evil bird)
Many Films have been directed are-"Baji Rao Mastani", "Padman", "Manikarnika"
A part of the fort is now converted into a classic five star Hetitage hotel "Ahilya Fort Heritage Hotel".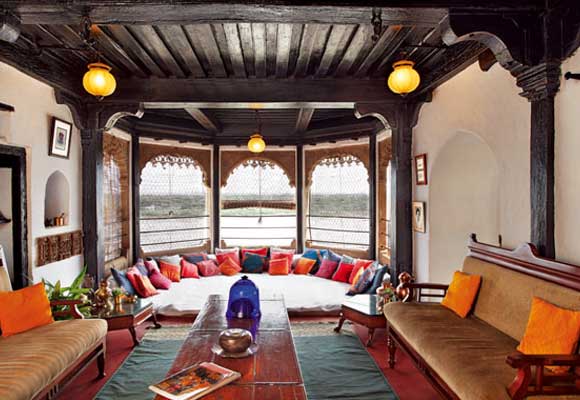 Devi Ahilya Bai Hoklar was a woman of strength, courage, and compassion for her people. Taking care of the Holkar dynasty was in itself an uphill task which she did to the best of her capacity.
If you like this article, please share your thoughts below.
This will motivate me to write more about the history, culture, and vast heritage of India.
-Sumeet